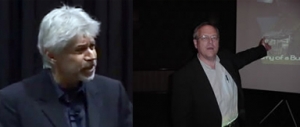 Recently, for a podcast sponsored by Griffin-Hammis Associates, Cary Griffin and I had a discussion about many facets of our service system. We talked about the resistance to change of sheltered work agencies, the needless persistence of sub-minimum wage, concerns we had about generalized employment training programs being developed for people with autism, flawed social enterprises, and other issues in the employment of people with disabilities. We also talked about what makes us optimistic and where successes with community integration were being found.
I've known Cary Griffin for over twenty plus years. He has been an extraordinary consultant and trainer in the disability field, and I have always considered him someone I could bounce ideas off of and get an honest answer.
Sound interesting? Well, personally, I enjoyed it and found that it helped me clarify some things I feel strongly about. Rather than making some of the same points here, you can get the transcript of the conversation at
http://trn-store.com/
.
I think it's an authentic discussion that touches on a lot of things, of which I'm sure some people will have disagreements. But certainly, the disability field is in need to air differing views of the status quo. Why? For starters, we spend an awful lot of taxpayer dollars on services for people with disabilities that, by and large, have had a history of pretty ineffectual, and sometimes alarming outcomes. And we are still labeling people, only now in new ways.
As always, we invite respectful comments – I look forward to reading your reactions.
Have a wonderful holiday season, everyone, and, (wherever you do it!) thanks for all that you do.