Recruiting for an Intensive Behavioral Group Home
Having visited and consulted with many disability employment organizations over the years, I believe the single skill most in need of training is in the area of marketing and job development. A major component of job development is the communication that agencies do within their communities. Marketing is all about communication, and there are a number of areas that contribute to a solid marketing approach. But one key at the start is to ensure that the organization does not offer competing and confusing messages about the individuals they serve.
What do I mean by a competing message? First, consider the marketing message that employers should be receiving about potential workers with disabilities. It should focus on business success, capability, and productivity. People should be presented positively and as a benefit to any business that includes someone with a disability in its workforce.
There are at least several areas I have observed where competing messages can occur.
1.
Staff Hiring Ads
that Convey Negative Messages about People with Disabilities
I recently read an hiring ad of an agency that included the following: "Work with people with developmental disabilities. Must be able to handle aggressive behavior." The recruitment ad pictured above labels the residents as "intensive" and "behavioral."
Intensive? Behavioral? Aggressive? Anyone reading the ad would likely feel fear, not competence. This kind of public description should be banned by law.
2. Logos and Program Names Based on Disability, Hope, or Helping
Agency logos often symbolize disability, sometimes in subtle or not-so-subtle ways. I have seen wheelchairs, crutches, and even bandaids in the logos of disability agencies that provide employment services. This defines the labor force you represent to employers by their deficit, not their capabilities.
3. Charity Appeals
A lot of agency fundraising can link charity to pity. Walk-a-thons, golf charity days, and the like often include a communication of need related to the disability. A message goes something like this: "Without your help, this person's life will be miserable." Agencies that run thrift stores also use the theme that "Your donation = jobs for people with disabilities." This has several issues. It equates employment with charity, and can imply the jobs relate only to within the stores themselves, an idea that could limit employers thinking about what types of jobs people with disabilities can do.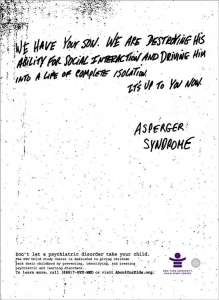 4.
Misguided Awareness Campaigns
Many agencies or advocacy groups attempt a well-meaning effort to build awareness of a disability label by marketing campaigns or holding special events. But sometimes subtle fear or pity messages are included. Note the use of fear in this ad at left about Asperger Syndrome.
5. Workshop Marketing for Sub-contract work
Sheltered workshops rely on businesses providing sub-contract work to them, and often give them the message that the provider agency offers cheaper labor by the business sending the work out rather than hiring within. This actually competes directly against job placement marketing, and gives a message about a lower value for workers with disabilities.
There is a good deal more analysis we can explore that relates to principles of communication and marketing. It would require us to research disability stereotypes, and analyze communication approaches that have been researched and proven successful with business. We can't cover that here, but if your agency is interested in this topic, join our online
Job Development Web Course
scheduled for October 2.